This year, business owners and operators will make a serious investment in technology to streamline business operations and sales.
According to recent reports, in-store retail tech increased by nearly 60 percent to $3.7B. As retailers recognize the need to invest in tech that improves both productivity and profitability, 68 percent of small business retailers plan to make additional investments in technology over the next 12 months.
Today, modern small businesses run on a variety of digital tools. From communicating with prospects and customers, collaborating internally, or monitoring sales, business owners and operators should know that there's a digital tool or service for almost every business type and/or business function.
Unfortunately, those that fail to embrace the latest business technology risk being outpaced by the competition. If you've considered investing in a retail POS system for your business, we've created the one-stop resource for you.
Retail POS Systems for Small Business: The Complete Guide
"In just a few months' time, the COVID-19 crisis has brought about years of change in the way companies in all sectors and regions do business," reports McKinsey & Company. According to a new McKinsey Global Survey, the COVID-19 crisis has accelerated the adoption of new digital technologies. For most, experimentation with an investment in digital technologies has played a significant role in helping companies successfully navigate the COVID-19 crisis and beyond.
During this time, retail POS software has emerged as a new technology solution for growing small business retailers. Most modern retail POS systems come equipped with next-generation retail POS features, including label and barcode printing, inventory management, customized hotkeys, employee management, and powerful customer loyalty programs.
Many of the best-rated POS systems have adapted to better serve customers. For example, most systems come equipped with contactless payment processing and online sales integrations. According to recent studies, most first-time contactless payment customers plan to continue this behavior, signaling a dramatic shift in how retailers and consumers accept and process sales transactions.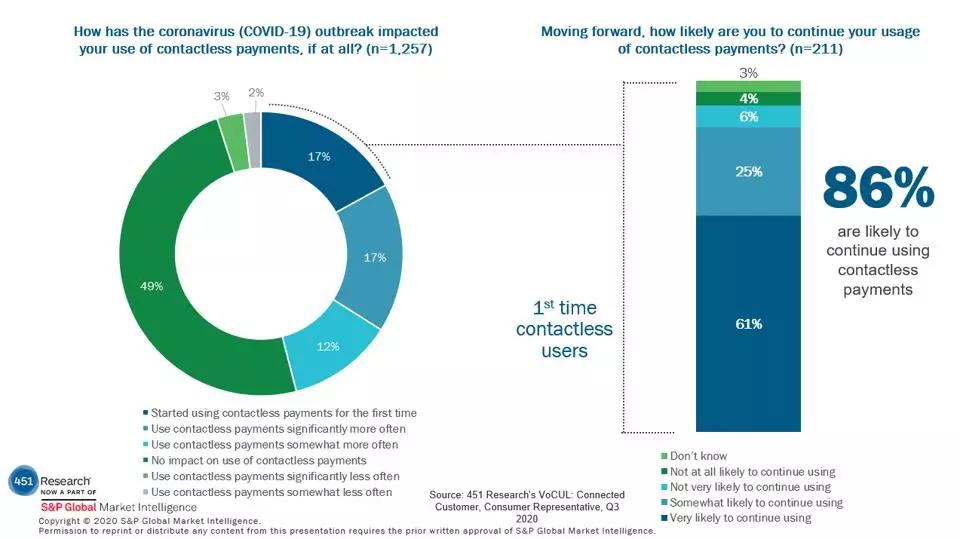 Source: S&P Global Market Intelligence
Retail POS Systems for Small Business
What is a Retail POS System?
A retail POS system enables businesses to accept sales transactions, manage employees, track inventory, and more. It is the central sales system needed to run and grow a business; it's the hub where all sales-related activities occur.
A retail POS system includes various software and hardware components that make running business sales operations more efficient and effective.
There are two distinct types of retail POS systems; on-premise and cloud, and it's important to understand the unique differences between them.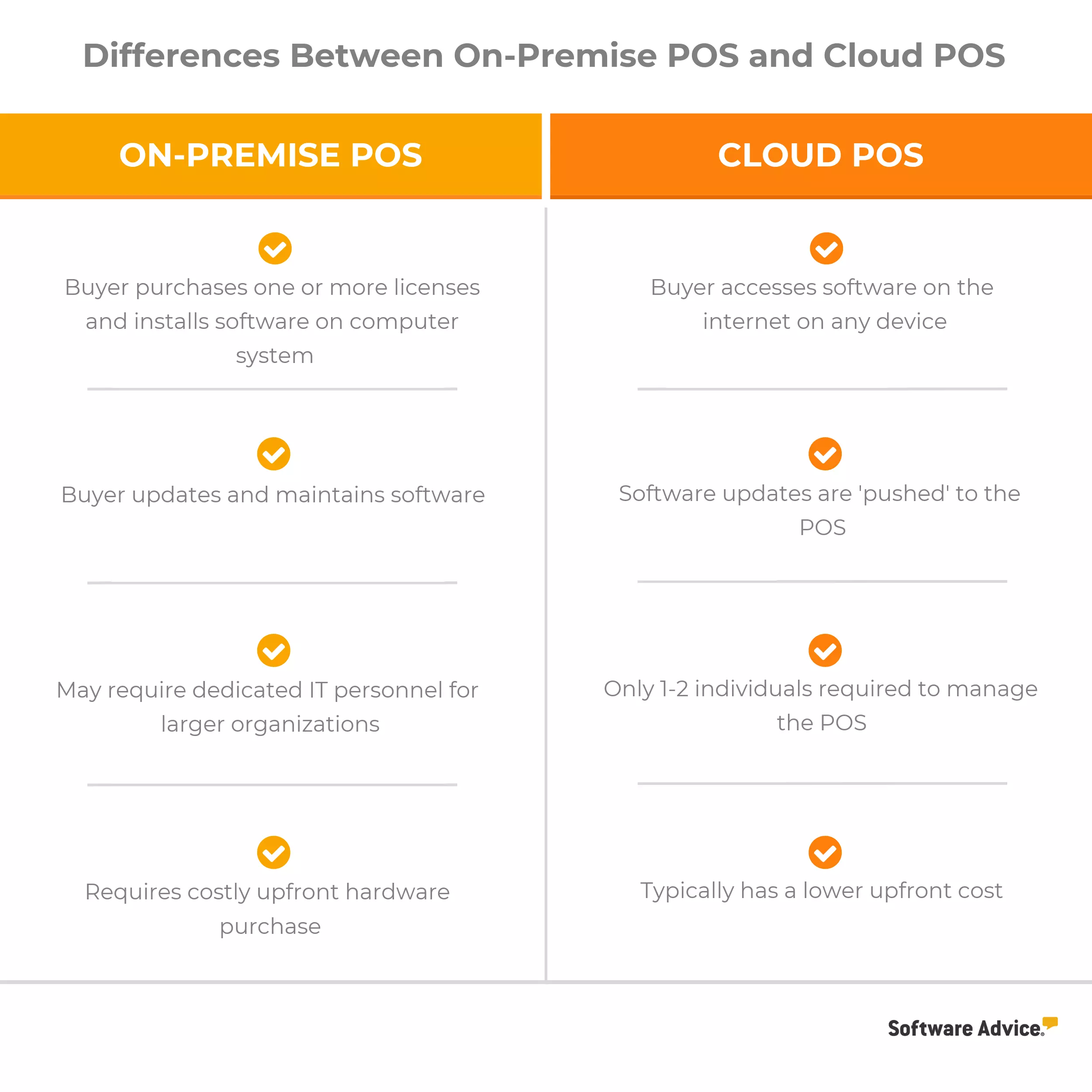 Source: Software Advice
POS Nation offers a hybrid database solution that bridges the unique benefits of both cloud-based and on-premise solutions. Our technology makes it simple and easy to access the database and records from a desktop or mobile device.
Our system offers flexible local features, enabling a business to continue operations even during unforeseen outages. In this way, you'll have everything you need to continue ringing in sales even if your internet connection goes down. Today, more than 10,000 customers are powered by POS Nation.
What are the Features of a Retail POS System?
Of course, we might be a bit biased when we say that POS Nation offers the best retail POS features. However, should you choose to partner with POS Nation or any other retail POS vendor, here is a list of the most important retail POS features.
Label and Barcode Printing
Today, customers deserve a smooth and seamless sales experience. When cashiers have to manually search for a product's price, that smooth and seamless sales process is severely fragmented. As such, business owners and managers need a retail POS system that offers label and barcode printing. POS Nation makes it simple and easy to create labels and tags with one click. Additionally, our system automatically adds new items to the print queue. In this way, new items can be added to your inventory rapidly.
Customized Hotkeys
What about items that don't have a barcode? Use hotkeys to look up produce or non-barcoded items. Depending on the size of your inventory, hotkeys enable business owners and managers to quickly search for a product or item. In this way, sales clerks can reduce the checkout time by virtually eliminating manual search – it's that easy!
Inventory Management
How large is your inventory? Businesses with a large inventory of diverse products know how difficult it is to manage inventory effectively. A great retail POS system should come equipped with powerful inventory management features designed to help businesses keep track of inventory, manage purchase orders, replenish low inventory, and monitor popular products or items.
Employee Management
POS Nation makes it easy to monitor employee productivity, manage schedules, set employee pay rates, and more. Additionally, through robust security protocols, business owners and managers can eliminate employee theft. For example, the system will recognize if there are a large number of comped items and/or voided transactions and signal employee theft.
Customer Loyalty
Today, customers are prioritizing small businesses that offer incentives for repeat purchases. Most retail POS systems allow sales clerks to monitor buying patterns and create powerful promotions that encourage additional sales. From dollar discounts and BOGO offers, to seasonal offers and loyalty points, a great retail POS system should make it simple and easy to deploy powerful retail promotions.
What are the Pros and Cons of a Retail POS System?
So, what are the unique pros and cons of a retail POS system? To start, the cost of a retail POS system can be a barrier to entry for some new business owners and managers. To make matters worse, some POS vendors overcharge and underdeliver. You see, most tools lack the features and support you need to maximize system effectiveness. Before long, you've invested in a thousand different system "upgrades," and you're spending double what you originally planned for. Moreover, some retail POS systems are massively complex and difficult to manage. For some, system setup can be a bit overwhelming. The fact is, businesses spend thousands of dollars annually on overpriced and ineffective retail POS systems.
Fortunately, POS Nation offers one of the most affordable and effective retail POS systems for small businesses — containing all the great features you need in a retail POS system, and nothing you don't. Additionally, our onboarding and support specialists help to ensure that your onboarding process runs as smoothly as possible. Every POS system comes with complimentary access to our online video library. This will give you and your staff in-depth information and knowledge related to the POS system.
Once the POS system is up and running, the benefits of a retail POS system are boundless. Most retail small businesses enjoy the following retail system benefits, including a streamlined sales process, reporting, inventory tracking, security, and much more. Are you ready to get started?
What are the Top Retail POS System Providers?
Of course, we know that we're not the only POS provider on the market today. Here is a list of the most popular retail POS systems for small business owners and managers.
Square
What started as the "little white reader," has grown to become one of the largest and most successful POS vendors. Today, customers enjoy a variety of features, including powerful payment processing, advanced reporting, inventory management, and more.
Additionally, Square offers special add-ons for small businesses, including payroll management, business debit cards, marketing management, and customer loyalty promotions. Because the platform is built around an easy-to-use mobile platform, Square can travel with you. Additionally, Square supports online sales processing.
Clover
Clover is another mobile-based platform currently supported by Android. Clover makes it easy to accept transactions, organize inventory, and manage employees. The platform comes with all the features you would expect from a leading POS provider, including powerful hardware, integrated applications, virtual terminals, and more.
Clover is popular among small to medium-sized businesses.
ShopKeep
ShopKeep serves more than 23,000 businesses, including retail organizations, coffee shops, restaurants, and bars. With access to powerful payment processing, inventory tracking, sales reports, employee tracking, and promotions, customers have found a reliable retail POS solution in ShopKeep.
Lightspeed
Lightspeed supports businesses of all shapes and sizes, including multi-site retail locations and restaurants. Lightspeed offers inventory management, reporting, payment processing, online sales, and powerful technical support.
POS Nation
Founded in 2001, POS Nation has partnered with more than 10,000 small businesses nationwide (and counting). We understand the unique needs and challenges of small business owners and managers and have built a solution designed to support those needs and meet those challenges. Our service-driven mentality means that you can lean on our powerful customer support to get all your questions answered.
Features:
Inventory management
Loss prevention
Software purpose-built for multiple retail industries and business types
Fully configured hardware
Integrated payment processing
Powerful customer support
Benefits: POS Nation offers system onboarding, setup, and training. In this way, you'll be able to get started quickly. Paging through a multi-page onboarding document is a thing of the past! Moreover, our system is easy to use and manage.
POS Nation Powers Retail Small Businesses
Are you ready to get started with POS Nation? Our turnkey solutions offer all the great hardware, software, and payment processing you need to build and manage a successful retail business. POS Nation streamlines sales processes, improves internal efficiencies, and creates happier customers – it's that easy!
To get started, we recommend scheduling a software demo.
Whether you're investing in a POS system for the first time or you've been managing a business for decades, your POS system should help you grow now and into the future. You may have one location or multiple locations, and you need a software solution to support your growing enterprise. By scheduling a demo, you'll get an in-depth and guided tour of our demo environment. An expert product specialist will be available to answer any questions you have related to our retail POS system.
Are you ready to get started? Schedule your software demo today!