You've recently started a new business – great!
Before long, customers will be lining up at the door and ready to pay you for your product/service. But wait – how do you accept their payment?
You need a small business point of sale system. A small business point of sale (POS) system allows businesses to accept sales transactions, manage employees, and track inventory. However, according to one recent study, only 77 percent of retailers are satisfied with their current POS system. This suggests that business owners still have a long way to go in securing an effective POS system for their businesses.
What is the Best POS System for Small Business? Our Top 5 Picks
So, what's the best POS system for small business?
As a small business owner or manager, it's important for you to weigh your options and research which vendors will fit your unique needs. Not every POS vendor fits every use case, which is why your search for the right solution should start with an in-depth analysis and evaluation.
We've highlighted the top 5 POS vendors for small businesses, however, you should continue to your own research outside of this list as well!
Features: To date, we've helped over 10,000 small businesses and merchants. There's a reason why more retail businesses partner with POS Nation. We offer powerful inventory control, sales reports, employee tracking, custom barcode printing, and many more features. These features come backed by best-in-class customer support.
Benefits: When you partner with POS Nation, you're a part of the family. We handle your setup, training, payments, warranty, and everything else in between. With us, you're working with someone you know. And since we're responsible for every aspect of your POS system, we understand how all the components work together. Our customers range from small, independent businesses to large, multi-location enterprises. We support industry-leading retail shops, liquor stores, convenience stores, groceries and markets, tobacco shops, lawn and garden centers, hardware stores, and clothing shops.
Features: Since 2005, Lightspeed has offered POS software to retail businesses. Lightspeed offers features like e-commerce shop, loyalty program, safe payment, inventory management, built-in reports, and customer support.
Benefits: The main benefit of Lightspeed is that it simplifies inventory management, generates insightful reports, and gives you all the necessary resources needed to track and monitor stock. Additionally, you can use OnSite POS to seamlessly switch from management to sales. Moreover, Lightspeed is compatible with Mac and iOS devices. Hardware – cash drawers, receipt printers, barcode scanners – can be purchased for an additional fee.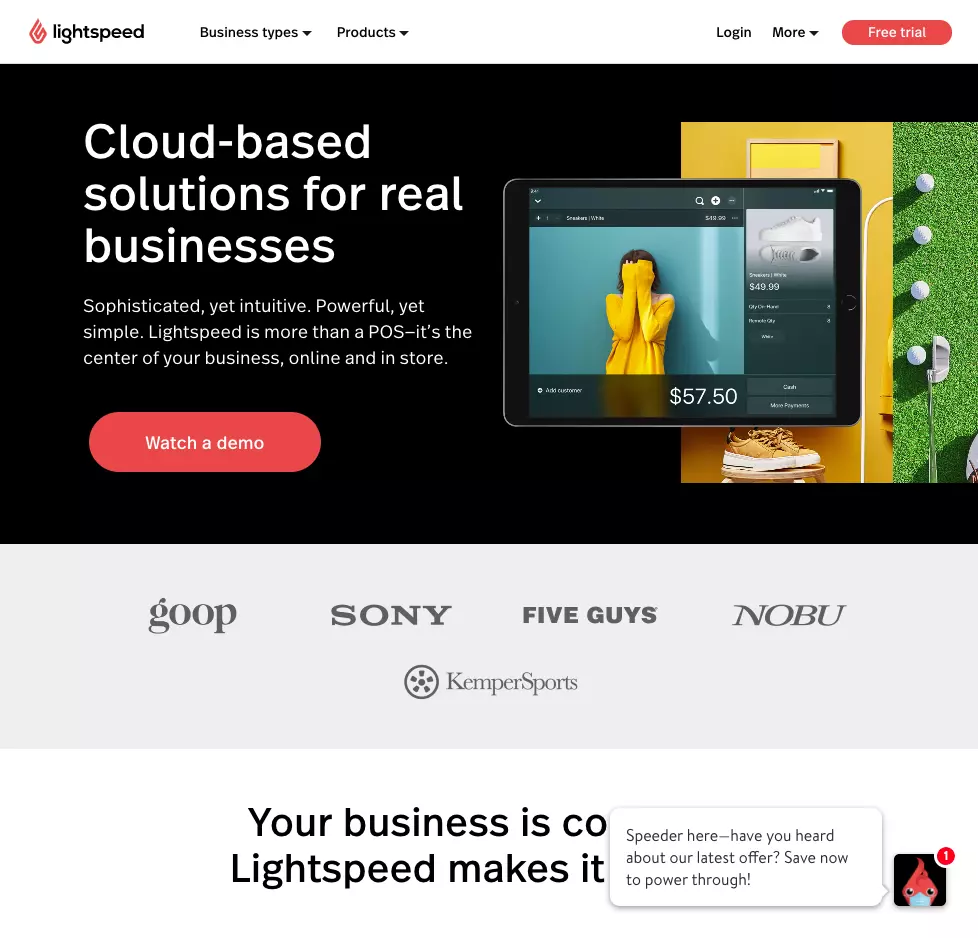 Features: Since 2013, Toast has served the restaurant community with powerful point of sale software. Toast's POS solution combines powerful cloud-based software, payment processing, and hardware purpose-built for restaurants. Popular features include tableside service, analytics, menu management, and support.
Benefits: The main benefit of Toast is its rich feature set, mobile support, and value. Toast offers both physical and digital gift cards, and allows restaurateurs to sell gift cards both in-store and online. Additionally, Toast customers utilize a real-time inventory app to monitor food inventory, units, prices, and supplies.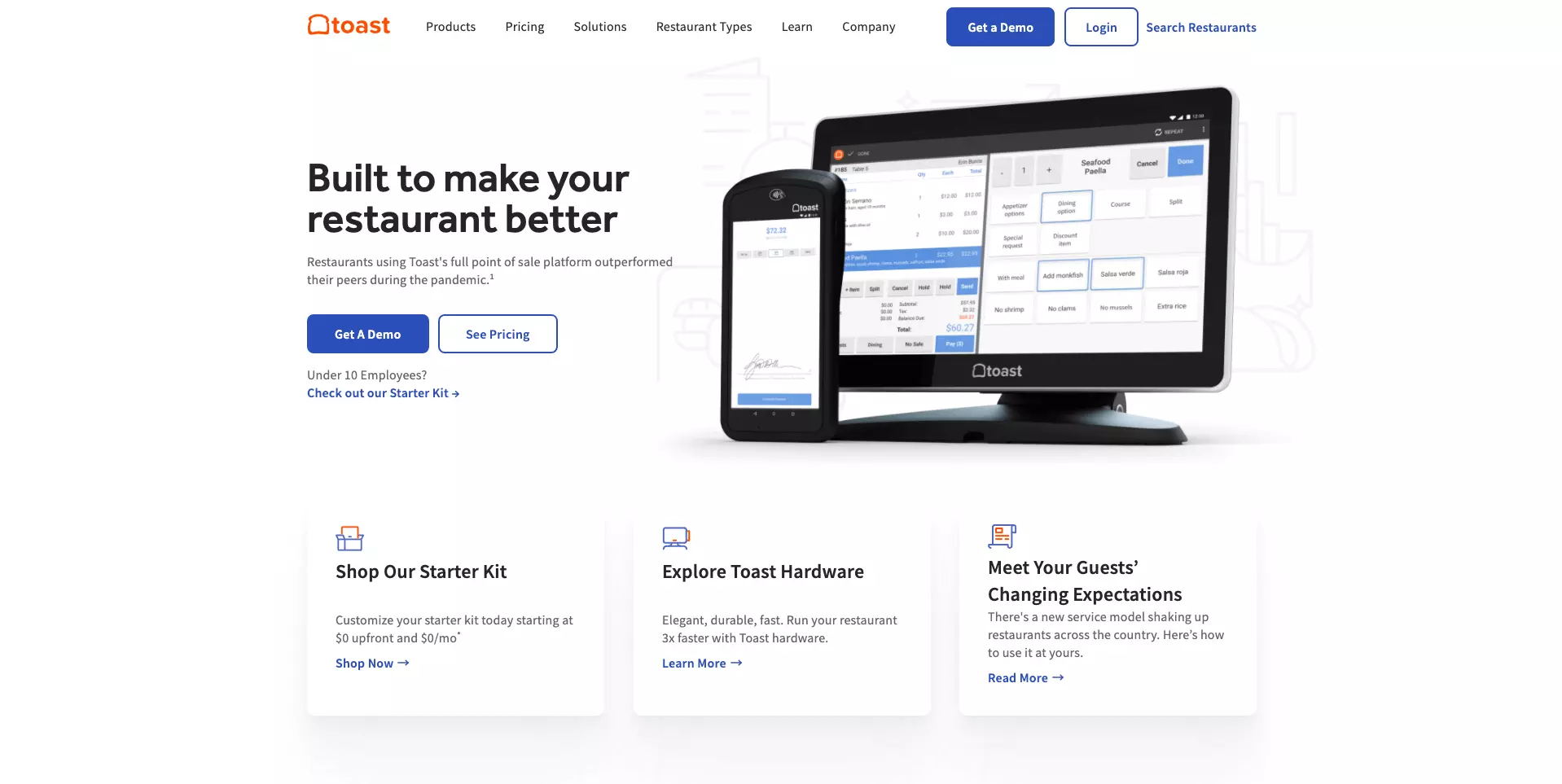 Features: Rain makes it simple and easy to grow your business with an all-in-one cloud-based point of sale and integrated website tool. Effortlessly manage your inventory, customers, and marketing all within one tool.
Benefits: The solution is renowned for its repair tracking, purchase order, gift card, and reward capabilities. Moreover, in addition to helping you boost online sales, Rain allows for the automatic synchronization of your website and mobile. Unlike other retail POS solutions, Rain offers free training. This gives users the ability to quickly boost efficiency, profitability, and business growth.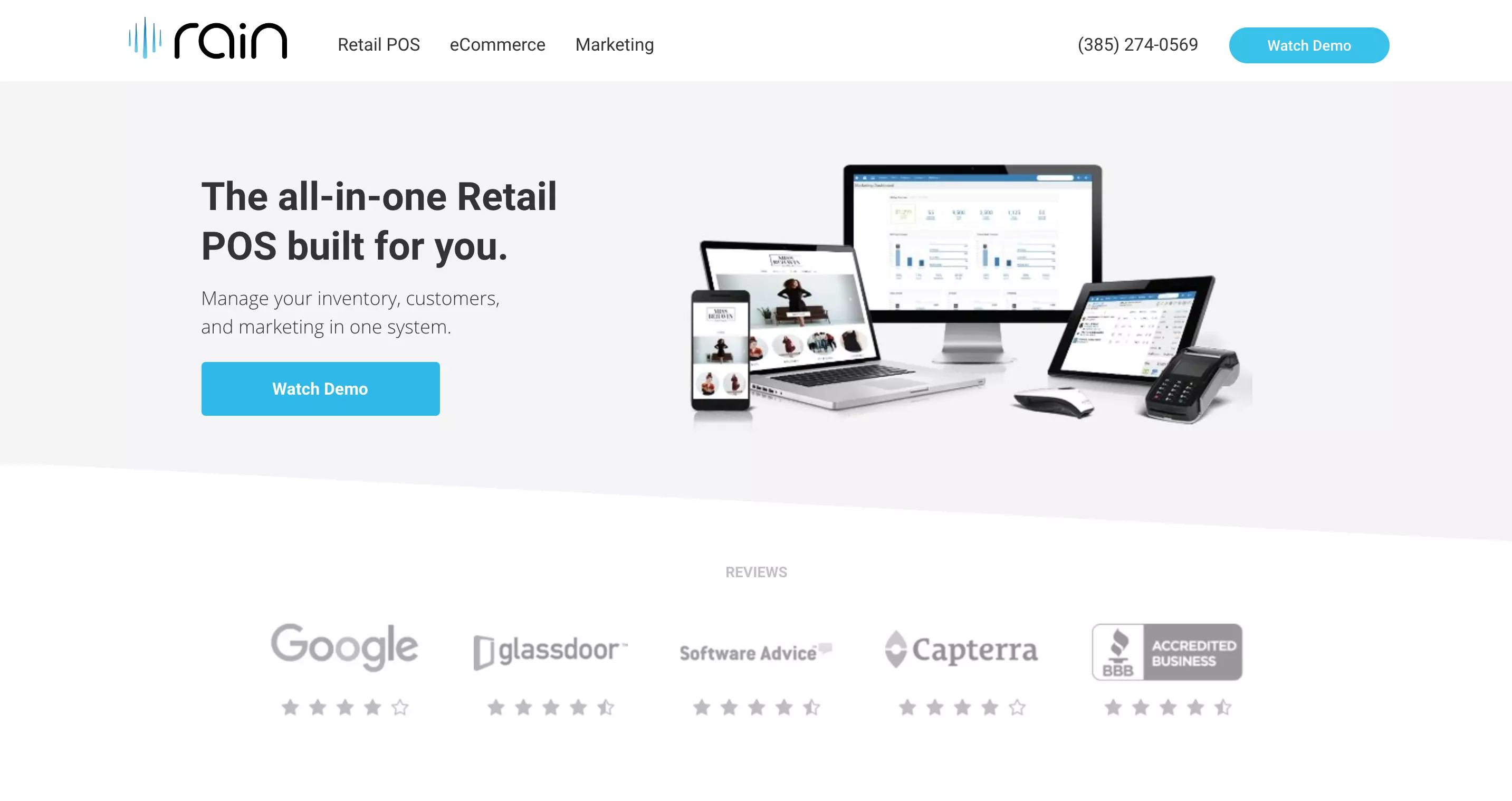 Features: Epos Now offers a complete point of sale solution designed for multiple business types. This award-winning point of sale software is specifically designed for your industry, offers on-the-go reporting, provides in-depth analytics, and is easy to use.
Benefits: Epos Now customers enjoy the system's ease of use, security, quick support, system expansion opportunities, report generation, and more. Additionally, though a built-in CRM, Epos Now customers can keep track of their customers and inspire additional purchases through powerful customer loyalty.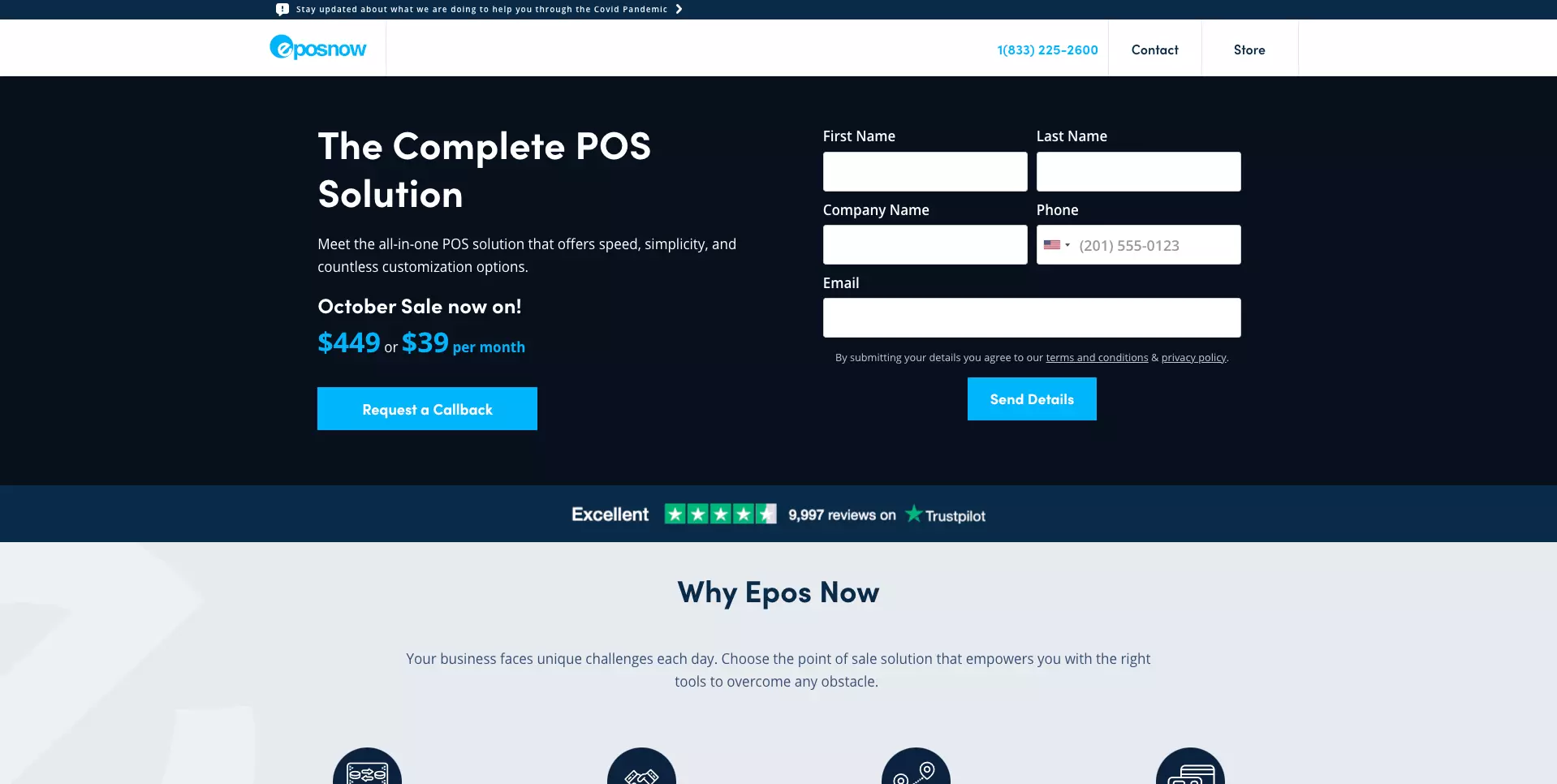 Choosing a POS for Small Business
Before choosing a point of sale provider, it's important to make sure their solution will meet all of your business' needs. Paying attention to the team you're working with is important, of course, but even if you have a positive experience with an industry sales rep, that doesn't mean their software and hardware will tick all of your boxes.
Some additional considerations and questions to think about are:
What is the POS provider's pricing structure?
How much flexibility is there with payment processing?
How secure is the point of sale solution?
What kind of hardware will I need?
Do I need specific features for inventory management?
Is their POS solution designed for my niche industry?
Do they offer onboarding, training, and tech support?
The Unique Needs of Small Businesses
Point of sale systems aren't 'one size fits all'. There are plenty of great solutions out there, but not all of them will work for your small business.
Additionally, opting for a POS system that claims to fit all retailers — or worse, work for both retailers and restaurants — is not going to set you up for success.
Generic options won't provide the most long-term value, and your small business isn't generic anyways!
Get Started With POS Nation
Getting started with POS Nation is easy. We recommend customizing your POS system with our system builder. With just a few clicks, you can build a customized POS solution for your unique retail store, liquor store, convenience store, or market.
As an industry-leading POS provider, we've helped thousands of first-time business owners and managers find the very best POS system for their growing stores. From retail businesses and grocers, to liquor stores and convenience stores, we offer an ideal POS solution for almost every business vertical.
Since opening our doors, we have continually evolved our solution to keep pace with competitors. During that time, we've accumulated a wealth of experience and knowledge to better serve our customers. And we've gotten a ton of great reviews!
Mount Pleasant Seafood was ready to upgrade their business from an old POS system to a market-specific and fully-customized point of sale solution.
Are you ready to get started?