5 Top Retail POS Systems for 2020
Sep 08, 2020
•
7 min read
With so many retail point of sale (POS) systems to choose from, it's hard to know which solution is right for your retail organization. Without careful planning and consideration of the latest features and functions, a lot can go wrong during the decision-making process — leaving you frustrated.
How do you know you're making the best investment for your business?
As an industry-leading POS provider, we might be biased when we say that our solution is the best, but our customers know that we deliver on:
POS Hardware: Choosing the right hardware is an essential part of running your business. Whatever your need is, we've got you covered.
POS Software: Your POS software should be tailored to the specific functions of your business. We'll help you find your perfect fit.
Support: Once we get your POS system up and running, our dedicated team will help with any questions or issues.
Here's a list of the top retail POS systems to help guide you. You can use this list to identify the most effective retail POS solution for your growing business.
The 5 Best Retail POS Systems for 2020
There are a number of great retail POS systems available today. The software providers on our list offer amazing features, best-in-class support, etc. Moreover, these solutions deliver unparalleled in-store experiences designed to delight retail customers during every step of the purchasing process.
Here are the top five retail POS systems for growing businesses and organizations.
1. Square
Jack Dorsey, Co-Founder of Square and Twitter, establishing Square in 2009 and launching its first app in 2010, wanted to create a mobile card-reading company that allowed for credit card payments on-the-spot.
What started as the "little white card reader" company has turned into complete, affordable solutions for many business owners. While Square wants to make it easy for a business to launch, it also caters to the more prominent, more established companies looking for an easy-to-use POS.
Features
Ease of Payments
Point of Sale and eCommerce Solutions
Fraud Prevention
Dispute Management
No Fees for Refunds
Advanced Reporting Tools
Customer Directory
Inventory Management
Team Management
Square Support
Square also offers add-on tools for business owners such as Capital, Payroll, Business Debit Card, Marketing, Loyalty, Team Management, and Gift Cards.
Benefits
Square is mobile — meaning it goes where you go. If you're a food truck, wherever you park that day, Square will work for you. If you're a crafter and travel to various vendor fairs and events, a Square reader will travel with you. There is no heavy or complicated equipment to set up. Square offers free basic eCommerce websites to its users, providing a way for its users to reach a wider audience.
Price
Square offers consistent pricing rates. You just pick your software and hardware solution, and they provide no complicated bills or setups. You can log in to your Square account and always see your balances on your Dashboard.
Your first card reader and Square app are free. This allows business owners to use their smartphone or tablet to get started.
Reader for contactless and chip: $49
Stand for contactless and chip: $169 (or $16/mo for 12 months) this turns your iPad into a POS.
Terminal: $299 (or $27/mo for 12 months,) all in one credit card machine for payments and receipts.
Register: $799 (or $39/mo for 24 months,) fully integrated POS terminal.
All cards are treated equally. Mastercard, Visa, Discover, American Express, and rewards cards all have the same rate. Square doesn't charge any weird fees. No startup fees, no statement fees, no monthly fees, no refund fees, no PCI compliance fees, no business card fees, and no hardware leasing fees.
Card-present payments are 2.6% + 10¢ per transaction. For cards that are not present but manually entered, the fee is 3.5% + 15¢ per transaction. When a customer purchases through the Square Online Story, Square Online Checkout, the Square eCommerce API, or pays their Square Invoice online, the fee is 2.9% + 30¢.
2. LightSpeed
Dax Dasilva, the CEO, found LightSpeed in 2005 in Montreal, Canada, to provide POS and eCommerce software to retail businesses. Now, they have over 900 employees and have acquired Gastrofix.
Features
Some features of LightSpeed are:
eCommerce Shop
Loyalty Program
Safe Payments
Inventory Management
Manage Multiple Locations
Built-in Reports
Support
Benefits
The benefits of using LightSpeed is that it caters to businesses of all sizes but tends to be more for multi-site retail and restaurants. Their POS provides both front-end and back-end management tools.
LightSpeed also includes inventory management, purchase orders, stock transfers between locations, built-in reports, unique order work, work order management, and customer profiles in their cloud-based service.
Price
Pricing for LightSpeed POS for retail started at $69 a month. This price includes the LightSpeed POS retail system. If a retailer needs add-ons, LightSpeed offers other packages for retailers:
Starter: LightSpeed Retail, Payments, and eCommerce for $99/mo.
Standard: LightSpeed Retail, Payments, eCommerce, and Accounting for $199/mo.
Advanced: LightSpeed Retail, Payments, eCommerce, Accounting, and Loyalty for $169/mo.
Pro: LightSpeed Retail, Payments, eCommerce, Accounting, Loyalty, and Analytics for $229/mo.
LightSpeed Payments: Card-present payments, tapped, inserted, or swiped are 2.6% + 10¢ and non card-present are 2.6% + 30¢ per transaction.
3. ShopKeep
Founded by Jason Richelson and David Olk in 2008, ShopKeep is a cloud-based tablet POS used by 23,000 retail, coffee shops, bars, and restaurants in the United States and Canada. ShopKeep caters to small independent businesses.
Features
Accept All Forms of Payment
Shopkeep Payments
Inventory Tracking
Quickbooks Integration
Sale Reports
Employee Time Tracking
ShopKeep Pocket
Email Receipts
Gift Cards
MailChimp Integration
Benefits
The main benefit we see with ShopKeep is the ability for each business owner to customize their POS to their business. ShopKeep offers tools necessary for smaller companies to grow without having to change their POS.
Price
All ShopKeep plans give you access to the ShopKeep Register, ShopKeep BackOffice, the ShopKeep Pocket mobile app, and a free credit card reader.
The Basic plan is $49/mo. It gives you the ability to manage employees, accept all payment types, and build a data-first business with detailed reporting.
The Essential plan is $79/mo. It includes everything in the Basic plan along with a full-functioning eCommerce store, online ordering toolkit, and smart integration, which saves you time as your business grows.
The Advanced plan is $179/mo. It includes everything in the Essential plan plus more powerful marketing tools, free hardware bundles, and unlimited register license.
ShopKeep payments are 2.5% + 10¢ per transaction.
4. Clover
Leonard Speiser and John Beatty founded Clover in 2012. This cloud-based Android POS is headquartered in Sunnyvale, CA, and was acquired by First Data Corporation in 2012. Bank of America and PNC sell Clover to their Merchant Services.
Features
Variety of Payment Options
POS Software
Reporting
Integrate 3rd-party apps
Clover Partner Apps
Gift Cards
Customer Database
Employee Tracking
Clover Capital
Virtual Terminals
Online Order
Benefits
Clover is entirely customizable for most businesses. Clover allows you to build the system you need now and expand as your business grows with new devices, apps, and other accessories.
Price
Clover Station and Station Pro are the all-in-one POS systems that come with a cash drawer and receipt printer. Stations start at $1,349 and go up to $1,649. Payment plans are available.
Clover Flex is the 100% mobile option to accept payments. Flex costs $499, and Clover does offer an interest-free payment plan.
Clover Mini is the smaller all-in-one POS system costing $749 and also includes a payment plan option.
Clover Go is a mobile card reader costing a mere $69, making it the most affordable solution to start with Clover.
Clovers process rates are 2.3% + 10¢ per transaction.
5. POS Nation
Founded in 2001, POS Nation has served over 10,000 retailers across all 50 states in countless service industries. You're bound to find one of our customers near you. POS Nation is a value-added reseller of turnkey point of sale solutions to meet a wide variety of business needs. Our primary focus is on independent retailers and restaurants.
Even though POS Nation has been around since 2001, our company still has that start-up mentality. We've been there. We understand the needs of new businesses as well as those who are already established.
We work directly with you, the business owner, to develop a custom solution designed to meet your unique needs. Trying to understand the POS with all of its companies, devices, and fees can be a daunting task. We're here to help.
POS Nation doesn't just sell POS systems, we also provide our customers with complete point of sale solutions backed by our 24/7 customer support.
Features
Fully-Configured Hardware
We pre-configure all of your hardware.
Ships in one single box.
Nothing to install.
Plug in and start ringing up transactions.
Personalized Software
Industry-specific.
Pre-loaded with your inventory.
Integrated Payment Processing
Take all forms of payments.
No need for external payment systems.
Backed By 24/7 Support
With one call, we are there for you no matter what your need is.
Benefits
The benefits of choosing POS Nation for your POS business needs are what set us above the competition. Our customers aren't just another face to get lost in a crowd. We take care of you. Whatever you need, make the call. We're a one-stop-shop.
We handle your set up, training, payments, warranty, and everything else in between. With us, you're working with someone you know. Since we're responsible for every aspect of your point of sale system, we understand how all the components work together. We're always here to help.
We have the capabilities to grow with your business. Our customers range from small, independent mom and pop style businesses to larger scale multi-location businesses. POS Nation supports industry-leading retail stores, liquor stores, convenience stores, grocery stores, tobacco shops, lawn and garden centers, hardware stores, and clothing stores.
Price
We believe in keeping things easy and straightforward here at POS Nation, and that includes our pricing.
Retail Pricing:
Flex Monthly: $99/month
Flex Freedom: $999 one time
Both of these options come with POS Software, Touch PC, Receipt Printer, Scanner, Cash Drawer, and a Chip Card Reader.
We also swear by the 4 most important retail shop POS features — full inventory management, barcode printing and scanning, ease of use and reliable service, and business reporting and customer loyalty.
We offer powerful customer support, zero hidden fees, and no long-term contracts.
Still unsure? Check out this comparison chart.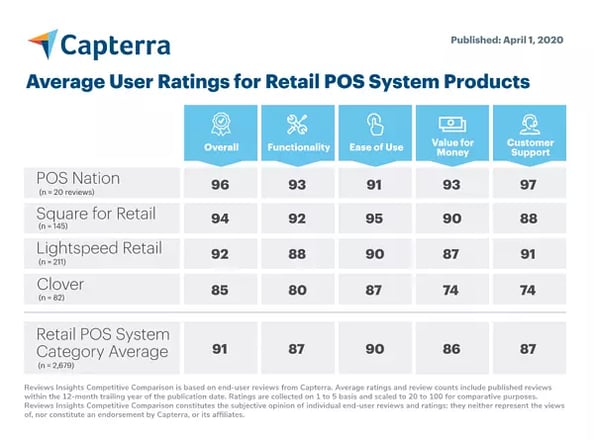 POS Nation Powers Industry-Leading Retail Businesses
There's a reason why more retail businesses partner with POS Nation. We offer Inventory Management, Customer Management, Analytical Reports, Loyalty Programs, Purchase Orders, and Security as just a few of our features and best-in-class customer support.
Don't take our word for it — check out our reviews to see what our customers had to say. We have over 500 reviews, and with 4.8 out of 5 stars, we're sure we're the top choice for your POS retail needs.
"When I called you guys, I said, 'Look, I want the easiest thing to use, that takes up the least amount of space, that looks the best,' and you came up with a solution. … Literally, plug it in, turn on the juice, connect our internet, and we're in business. … I think it's awesome." - Terry Ickowicz - Doughboy's Bakery and Café - Los Angeles, CA
"If you need a POS system that is powerful and easy to use, as well as a support team that is always there for you, get it from POS Nation — the recipient of a strong five-star rating." - Parve Zone - Kiamesha Lake, NY
To guide your POS purchasing decision, we've created a simple Retail POS System Buyer's Guide. Get your copy today and learn how to better understand the hardware and software that'll work best for your unique business.