What is the average cost of a point of sale system?
As an industry-leading point of sale provider, it's a question that we get all the time, and the answer might surprise you. When it comes to finding a small business point of sale system that doesn't break the bank, it probably feels a bit like searching for a needle in a haystack. How do you balance all of the latest and greatest point of sale features without overspending?
What is the Average Cost of a Point of Sale System? 5 Top Factors
The average cost of a point of sale system may vary depending on a few factors, including sales volume, product catalog, features, locations, and support.
For more than a decade, we've provided powerful and intuitive point of sale features to growing small businesses nationwide. During this time, we've noticed that most point of sale vendors overcharge and underdeliver. You see, most tools lack the features and support your business needs to manage and grow the system effectively. Moreover, some vendors require businesses to invest in additional point of sale add-ons and upgrades to complete simple tasks.
There's a better way.
POS Nation makes it simple and easy to get started. Many of our systems cost just $300 to get started. Additionally, we offer all the latest and greatest features right out of the box. In this way, you'll never overspend on additional add-ons. And with no monthly payments, your business will experience additional cost savings.
In most instances, other point of sale vendors will charge for the following:
1. Sales Volume
Depending on the sales volume of your organization, some vendors will take a cut of sales as a part of the fee structure. In addition to any monthly subscriptions, businesses may pay up to 2.5% per transaction. In this scenario, it's a good idea to estimate total monthly sales volume and calculate in conjunction with any mandatory sales fees set forth by the point of sale provider.
Over time, these mandatory fees can really add up. The good news? POS Nation will never charge a transaction fee. Start accepting customers today and never worry about losing a percentage of your sales.
Related: 5 Features of an All-in-One POS System
2. Product Catalog
Does your business have a large catalog of products with multiple SKUs? In some instances, point of sale vendors may charge additional fees to support large databases. This can be an inhibiting factor for larger enterprises.
Our retail store inventory system is the most powerful on the market, supporting an unlimited number of products. You read that right – there is no limit on the number of items or product SKUs for your business. Additionally, you can upload a bulk list of products or individual items, and the database keeps tracks of things like UPC code, vendor number, department, category, cost of the time, and sale price.
3. Features
In some cases, other point of sale vendors may charge for additional features. Most vendors offer basic plans with a few features, but add-ons like gift cards, advanced reporting or label printing may incur an additional fee.
Our hybrid point of sale solution offers cloud-like features, including a powerful reporting dashboard and virtual backend. Moreover, all packages include the features most utilized by businesses in your exact industry. In this way, you're never overspending on the features you don't need.
Related: The Best Retail POS Features for Growing Businesses
4. Locations
If you're managing a multi-located business, the size of your business may impact the price of your point of sale solution. Each additional register or location will cost extra under most plans. Other vendors offer plans to support an unlimited number of registers, outlets, and locations. POS Nation has supported both single-location and multi-location businesses, organizations, and enterprises.
5. Support
To help you make the most of your system, some vendors offer paid support.
POS Nation's customer support is what sets us apart. Every point of sale system comes with complimentary access to our online video training library. Additionally, most customers upgrade to our monthly support plan for additional hands-on training opportunities and videos. Additionally, our onboarding experience will help you and your team get up to speed quickly and efficiently.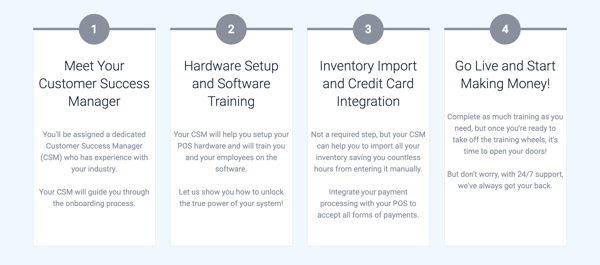 Related: 5 Powerful Small Business Retail POS Systems
Partner With POS Nation to Power Your Small Business
There's a reason why our retail point of sale software is trusted by more than 10,000 customers nationwide. In a few simple clicks, improve checkout, create happier customers, and grow your business. And with zero hidden fees and no long-term contracts, we're one of the most affordable point of sale solutions available.
Our all-in-one retail setup includes a touchscreen computer, cash drawer, receipt printer, and barcode scanner. Additionally, product specialists are here to guide you every step of the way – it's that easy!
But don't take our word it. Thousands of retailers nationwide use our powerful point of sale software and hardware to drive business growth.
My experience with POS Nation is probably one of the best experiences that I've ever had with a company. From day one, everyone that we've spoke to has gone above and beyond to help in any way they possibly can. Their customer service skills are amazing and that's very hard to find these days – Jennifer A., Store Owner.
To get started, we recommend completing our short quiz below.