3 Types of POS Systems for Retail
Sep 29, 2020
•
5 min read
44% of all stores use mobile POS to ring up customers, but 37% of these companies ended up spending more on their software than they budgeted for.
Choosing a new point of sale system is overwhelming. There are so many features to compare, and you aren't sure whether you need a system that's local or cloud-based.
With 3 types of POS systems for retail to choose from, how do you know which one is right for your business?
To start, you'll need to analyze the way you take payments, how you track inventory, if you want to offer a loyalty program, and much more.
Then, you'll need to compare POS providers to see which one will best meet your needs when it comes to equipment and functionality.
Let's take a look at the 3 types of POS systems in more detail so you can make an informed choice concerning which one to use.
3 Types of POS Systems for Retail
When searching for the perfect POS system for your business, there are some common pitfalls that you need to be aware of, so you can avoid them.
Be wary of POS providers that claim their software is free. No POS system is free — there are always hidden fees and costs involved. Often those providers that claim their software is free will end up hitting you with recurring monthly fees and transaction fees that are much higher than you would pay for another solution.
Another common pitfall first-time buyers face is choosing a system that doesn't meet all your requirements. Getting stuck in a long-term contract paying for a POS system you can't use is definitely a situation you want to avoid.
Keep these pitfalls in mind as you read the following article, and we dive deeper into the types of POS systems to choose from.
1. POS System by Industry
The first type of POS system is an industry-specific system. The industry you're in may have specific requirements that your POS system must fulfill, so it's crucial that you know what those are, and that you make sure the system you choose does what you need.
For example, a new liquor store owner is looking to upgrade from cash-only or taking debit cards through an app — like Square or PayPal — to a POS system.
When searching for the right provider, they'll need to ask if the software offers the age verification features they need to protect them from legal repercussions of selling to minors.
Not only that, as the owner of Ocean Wine & Spirits came to realize, liquor stores have unique POS needs when it comes to managing inventory.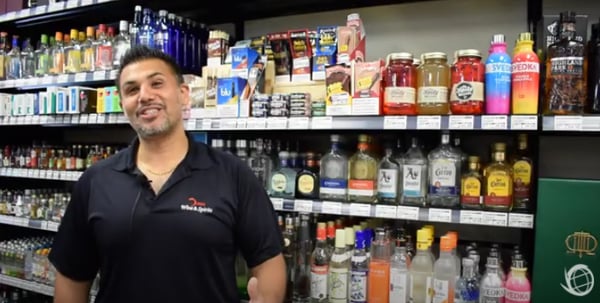 Another example is a convenience store POS system. A convenience store owner is going to need a POS system with the hardware and software to handle scanning product SKUs.
Jennifer, the owner of Quick Serve Mart, also realized a POS system could help her with the issues she was having with her pricing board not working. She also found she could use the advantaged reporting features to better grasp how much sales her business was doing.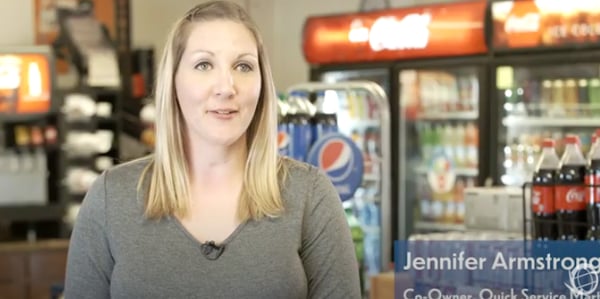 At POS Nation, we understand each industry's unique needs, and we can guide you through the nitty-gritty details with ease.
We'll work with you and make sure you get all the necessary equipment and software functionality you need from the start.
2. OS/Device
The next type of POS system is categorized by the OS/Device. Your POS software can either be run on a local system or a cloud-based system, and they each have their pros and cons.
A local solution is saved on your local devices, and you typically pay a one-time fee for software licensing, and then it's yours. The downside is that your system isn't backed up to the cloud, so if you lose your information, it's gone.
When you use a cloud-based POS, all your information is stored in the cloud and easily recoverable by the provider in an emergency situation.
The downside to a cloud-based POS is that you have to pay a recurring monthly subscription fee for the software, but the additional flexibility and peace of mind might be worth it for you.
At POS Nation, we offer a hybrid solution a, but word of caution — our software is not Mac compatible, so if you have a Mac, we might not be the best fit for you.
3. Database
POS systems can have local, cloud, or hybrid databases. With a hybrid database solution — like the one we offer here at POS Nation — you get the best of both worlds.
You can access your database and records from your desktop or any of your mobile devices. That means no matter where you are, you'll be able to access your database and view your reports.
Another upside to a hybrid system is that you don't have to worry about your business coming to a halt if your internet connection goes down.
You can go about business as usual with the local features. You just won't have access to the cloud-based features and functionality until your internet connection is reestablished.
We understand just how overwhelming purchasing a POS system can be when you're making this decision for the first time.
It's a considerable investment. You want to know your money is well-spent and that you'll be happy with the solution you choose.
That's why our experts put together a buyers' guide to give you the lowdown on everything you need to know, so you will be sure to make the best decision possible.
Inside this guide, you'll find answers to questions such as:
"What do I need my POS system to do?
"Should I choose a local, cloud-based, or hybrid solution?"
"What kind of equipment do I need? Receipt printers, barcode scanners, or maybe a cash drawer? What about barcode printers or customer displays?"
"How much should a POS system cost?"
"How good is the POS system tech support?"
"It is an intuitive POS system?"
And more…
"My experience with the support team, customer service, installation — anyone I've talked to — at POS Nation has gone above and beyond. I couldn't ask for anything better. We got a great system. A great deal. POS Nation provides all the things we're looking for in a POS System." - Jennifer Armstrong
Get your free POS Buyers' Guide now and let us help you make the best POS buying decision possible. You can be confident that your POS system will have everything you need.