5 Powerful Small Business Retail POS Systems
Sep 24, 2020
•
7 min read
As a new business owner, it's easy to get overwhelmed with all the different small business retail POS systems on the market to choose from.
If you're a larger company with a bigger budget, a few mistakes may not make a significant impact on your bottom line. But if you're a smaller company, your time and money are stretched thin and every penny counts.
You have to be more deliberate with your purchasing decisions — which means considering all potential problems and finding solutions quickly. You need to work with a company that cares about your business' success and will offer top-notch customer service and an affordable product that will get the job done.
In this article, we'll provide you with an overview of some of the very best small business retail POS systems that money can buy. Use these expert insights to guide your decision-making process.
5 Powerful Small Business Retail POS Systems in 2020
Depending on your company's industry, it can be essential to find a great POS system that incorporates certain features that'll best benefit your unique business needs.
Modern retail POS systems are far more advanced than the ones of yesteryear. They provide business owners with a much more comprehensive range of tools and features.
What are the top five features that small business owners should prioritize in a small business POS?
Inventory management
Reporting
Employee management
Customer loyalty/Sales history
Security
There are a lot of great retail POS systems on the market today. The software providers included on our list offer great features, best-in-class POS system tech support, and more.
These solutions deliver unparalleled in-store experiences designed to delight retail customers during the purchasing process. Here are the top five retail POS systems for growing businesses and organizations.
1. Square
Square first began its foray into the POS system world in 2009 with a "little white card reader." They've continued to improve their product over the years by adding additional features to enhance their customers' experiences while remaining affordable and easy for business owners to use.
Features
Since their card reader's initial debut, Square has added many new features to help business owners run their companies, saving their time and money while limiting stress. These are just a few of the features included in your purchase.
Inventory management
Free retail POS app
Free online store
Retail reports
Team management
Loyalty programs
Payroll
Benefits
Square has several benefits for potential customers to consider when looking at their POS system.
Square goes wherever you go
No heavy or complicated equipment to set up
Fraud prevention
Customer support via phone, live chat, email, or social media
Price
Pricing through Square varies depending on the type of POS software and hardware you purchase. You can find out specifics on pricing via the pricing page on Square's website.
Also, Square offers custom pricing for business owners who process over $250,000 per year. The prices shown on the website are standard rates and are only for businesses that process under $250,000.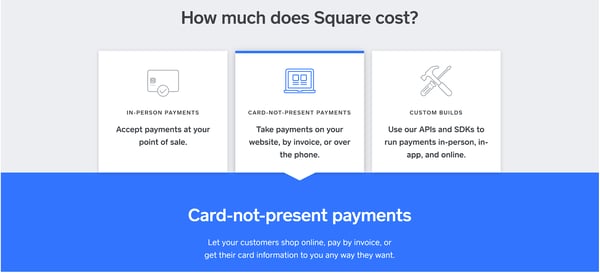 2. Shopify
Shopify is an eCommerce website that launched over ten years ago to help fulfill the need for better eCommerce vendors. Shopify's reach now extends to over 1,000,000 businesses worldwide and offers its service to those who sell online, in retail stores, or even on-the-go.
Features
Shopify offers a wide range of features to its customers. Pricing varies based on the functionality you want from your eCommerce website. Some of the features are listed below.
An online store
Shopping cart
Store management
Marketing and SEO
Web hosting
Analytics
24/7 support
Mobile app
Potential customers can view Shopify's features page for more information for an even more in-depth breakdown within each category.
Benefits
There are many benefits to purchasing a Shopify POS system. Their POS system features all of the same services that their eCommerce platforms do.
Easy to set up and use
Web hosting
Can accept payments from multiple channels (credit cards, online payments)
You can sell products in person or online through a website, social media, etc.
Secure and reliable
Integration with other apps
Fast loading speeds
24/7 support via email, live chat or phone
Price
The pricing for Shopify varies depending on which package you choose. They are as follows: Basic Shopify, Shopify, Advanced Shopify, and Shopify Plus.
Customers can also choose Shopify Lite, which allows you to add products to your websites and blogs, and accept credit card payments for only $9 per month.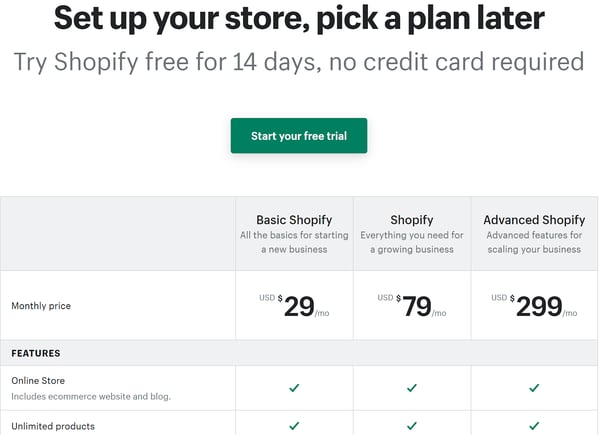 3. ShopKeep
ShopKeep, a New York-based business, was founded in 2008. They offer a cloud-based tablet point of sale system that caters to small, independently-owned businesses. They are currently the #1 customer-rated iPad POS system.
Since they transitioned to tablet accessible, ShopKeep has continued to grow and improve its product. They now serve 25,000+ customers nationally, and their system processes over 289 million transactions annually.
Features
ShopKeep's POS software allows you to do many different things, from personalizing your register to managing your back office and having your own mobile app.
Other important features include:
Small business marketing tools
Free quick and easy setup
Sales analytics
Push notifications from your mobile app to inform you of low stock items, payouts, voided sales, etc.
Sales tracking
A website
Team management
You can find a comprehensive list of features on ShopKeep's website.
Benefits
ShopKeep's POS system offers some great benefits to help business owners.
Affordability
Fully customizable to meet each business' needs
No lengthy contract
1-year hardware warranty
Free 24/7/365 support
Price
Prices for ShopKeep vary depending on which plan you choose. There are three to choose from: The Basic Plan, The Essential Plan, and The Advanced Plan.
Plans start at $49 per month, but custom pricing is available to ensure that business owners have the features they need. To find out more about ShopKeep's pricing, click on the Get Started button located on their pricing page.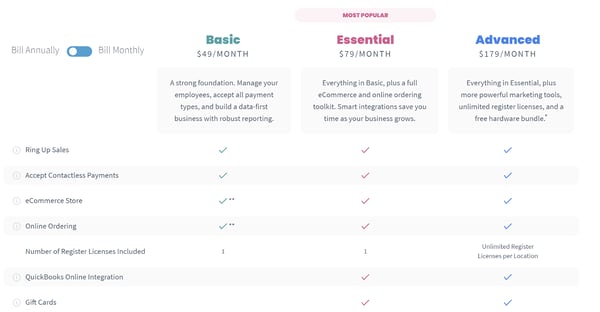 4. TouchBistro
Unlike other companies on this list, TouchBistro is an iPad POS system designed explicitly for restaurants. Their goal is to provide a system that is easy to use and offers features that are needed by issues restaurants may deal with, such as menu changes, floor plan customization, and more.
Features
With TouchBistro, business owners can expect to receive a variety of features, optional hardware add-ons, and partner integrations.
Tableside ordering
Menu customization
Inventory management
Sales analytics
Multiple integrated payment processing
Staff scheduling and management
Loyalty programs
Benefits
With a TouchBistro POS plan, business owners can expect the following benefits:
Flexible, stable, and easy-to-use
Mobile units that allow you to travel from table to table
Price
TouchBistro offers several different plans depending on your company's unique needs. There are also several additional add-ons available that will cost you more: reservations, online ordering, gift cards, and payments.
If you would like more information about TouchBistro's pricing, please visit their website to request a quote based on your company's needs.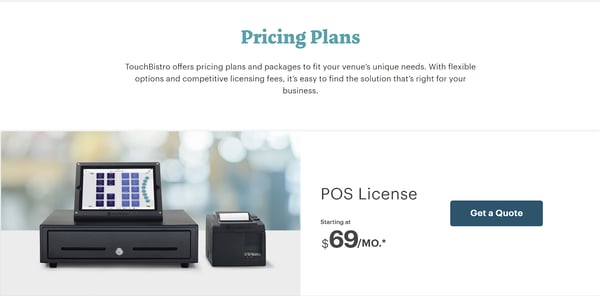 5. POS Nation
POS Nation was founded in 2001 and has helped over 10,000 people throughout all 50 states from various industries, including retail stores, liquor stores, lawn and garden centers, etc. However, we primarily focus on independent retailers and restaurants.
Businesses love to work with us. We work closely with them to find a custom solution that best fits their needs. We understand how overwhelming the entire process can be when confronted with so many POS systems, devices, and fees, so we aim to remove the stress and headache from the purchasing process.
Features
The POS Nation software has many features, and they vary depending on the industry you're in. Features include:
Industry-specific and easy-to-use software
Touch PC
Receipt printer
Scanner
Cash Drawer
Chip card reader
Pre-loaded inventory
Inventory management
Barcode printing and scanning
Business reporting
Customer loyalty programs
Benefits
When it comes to the benefits you get with POS Nation, we are leagues ahead of everyone else. We value our customers' time and money, so that we will be there for you every step of the way. To us, you aren't just another customer. We take care of you and your company's needs. We are there to solve any issues you may come across while using our POS system.
Other benefits you can expect are:
24/7 customer support
Training
A warranty
System setup
Training
Zero hidden fees
No long-term contracts
Price
We are highly transparent about our pricing. We don't slam you with hidden fees, and there are no long-term contracts. We keep things straightforward, so there are no surprises.
Our POS solution costs $99 per month via the Flex Monthly POS plan, or $999 upfront via their Freedom POS plan.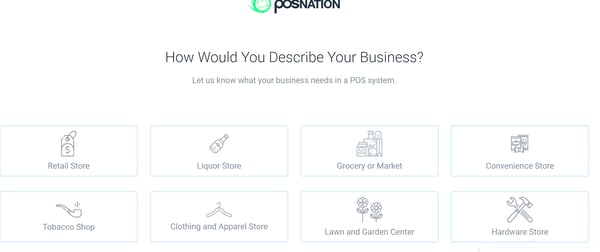 POS Nation Powers Small Business Retail
Take a look at our track record, and you will understand why so many retail businesses partner with POS Nation.
We offer many different features, including inventory and customer management, analytical reports, loyalty programs, purchase orders, and best-in-class support. We strive to meet our customer's needs because our customers' satisfaction is our #1 priority.
"POS Nation (Rea Lynne and Jennifer) did a great job assisting us in the POS system purchasing to include training, service, and educating my staff. I will recommend them any time as their staff is very polite and understanding with the knowledge of a complete and very good operating system." - Mike Despain
To learn more about the hardware and software that works best for your unique business, please download our Point of Sale System Buyer's Guide. It features detailed step-by-step instructions on finding the perfect POS system for your business.