The Importance of Mobile Pay and Contactless Payments
May 21, 2020
•
3 min read
Mobile pay was all the hype when it was first introduced — but mostly for the convenience factor.
Rather than digging through your wallet for the right credit card or exact change while juggling the items in your hands, you could pull your phone out to pay. Or, better yet, your phone was already in your hand, making your quick trip to the store even quicker.
Although convenient, mobile payment providers were gaining popularity at a slow pace. But now that we're living through the coronavirus pandemic, will that change? Our point of sale experts think so — and here's why.
The Simplicity of Paying With a Phone
As mentioned, there's nothing easier than pulling out your phone. It's already easily accessible, and it has almost everything you need on it.
Your phone is a calculator, phone book, calendar, photo album, timer, and so much more. Why not add "method of payment" to the list?
People often forget their purse, wallet, or even the credit card itself — but it's way more likely for a customer to have their phone on them.
With a simple tap of their smartphone, they've paid you in seconds without making any direct contact with your cashier.
Plus, people are comfortable using their own phones. It's familiar to them, and way less painless to transition to this method of payment than it would have been a decade ago.
Mobile Payments Promote Security
Contactless pay provides an extra layer of security for your customers' financial wellbeing by not putting their account number out on hackers' open market for easy access.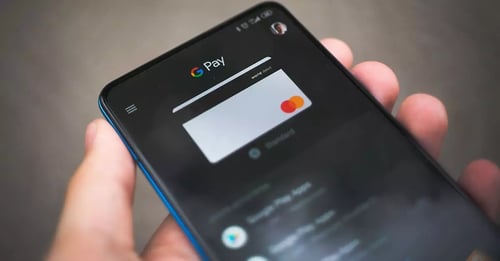 For example, Apple Pay and Google Pay both use a tokenization system during a transaction. The system gives the account a temporary number (token) that is transferred for payment, so their actual number is never exposed to potential thieves. Customers have to "unlock" the token with verification on their device before the transaction is approved in the first place.
There are several other businesses that have entered the mobile wallet market now, with the well-known PayPal being one of them. Like PayPal, not all mobile pay providers utilize a tokenization system — however, using a mobile wallet may be the safest payment method to date.
Further credit security comes from the simple fact that customers don't have to carry their cards to use them, preventing the occurrence of theft and loss.
Keeping Checkout Sanitation in Check
This is arguably the most prominent reason that mobile pay is here to stay.
The coronavirus pandemic is still an active concern, with the general public taking extra precautions when it comes to sanitation. Before leaving their homes, consumers gear up with their masks, gloves, and hand sanitizer — and they expect retailers and restaurants to have regulations in place, too.
Social distancing and sanitation rules may be around for a while, which is bad news if accepting payment means a lot of touching. Gone are the days of signing the dotted line with a stylus, or even worse, your finger. By accepting mobile pay, you're putting the responsibility in your customers' hands rather than your own.
Altogether, we predict that small businesses are now more likely to upgrade to contactless pay to keep their customers happy, but more importantly, to avoid putting them at risk.
Need more tips on how to make your storefront more comfortable for customers? Check out our guide, Managing a Small Business Post-Coronavirus.
Your Small Business Needs Contactless Pay
At the end of the day, the more options and flexibility you provide to customers, the better off you are. Not every consumer will be on board with mobile pay — particularly customers who are less tech-savvy — but contactless payment is the future of retail.
If you have a powerful and feature-rich point of sale system, activating mobile pay should be no hassle at all. POS Nation customers just have to get in touch with the tech support team at support@posnation.com to start using contactless pay!
If you're not a POS Nation customer, be sure to schedule a live demo to see our software in action. You can also reach out to our team at 1-877-737-3548 or sales@posnation.com.