The 5 Best Rated POS Systems of All Time
Sep 10, 2020
•
5 min read
The right point of sale solution can help your business unlock significant growth.
However, choose the wrong point of sale solution can result in a ton of wasted time, energy, and capital. What's worse is that there are thousands of best rated POS systems to choose from and finding the very best solution for your business is a bit harder than it might seem. With so many software solutions out there, how do you know that you're investing in the very best tool for your unique business/industry?
You need a system that grows with your business and offers the very latest features and functions, including touch screens, smart inventory controls, and more. Fortunately, as an industry-leading small business point of sale solution provider, we've helped thousands of businesses navigate towards the right software/hardware.
And maybe we can help your business do the same.
The 5 Best Rated POS Systems for Growing Businesses
So, which point of sale solution should your growing business prioritize?
To find the very best rated point of sale system, we recommend consulting third-party software directories. We've done the heavy lifting and compiled an all-in-one directory of the five best-rated POS systems of all time.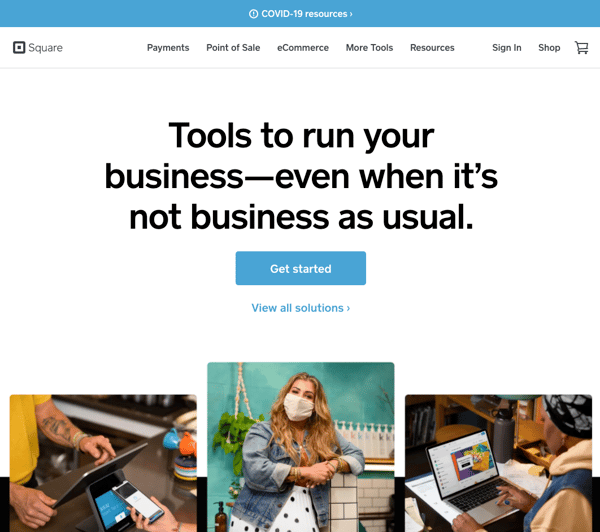 Founded in 2009, Square is the largest point of sale provider for growing businesses and organizations. Square's complete register service is a point of sale solution that offers advanced features including barcode scanning, discount management, inventory management, loyalty program support, and more.
Square is ideal for retail, bakery, bar, restaurant, and other major business types. Each POS kit includes Square hardware, cash drawers, receipt printers, and accessories designed for your unique business and industry.
Customer Reviews:
Overall, I would 100% recommend Square for new businesses. Start up costs can be next to nothing, and it doesn't require someone to install it. And no contracts! You can add one of their additional features which should be able to sustain your business growth for as long as you need it to. In terms of switching to Square, make sure your existing equipment can be reused. – Jacob S., Manager
It's hard for me to find anything wrong with Square. We have never really been tempted by the competition, and I doubt we will be anytime soon. Perhaps if you are running a store with more products or customers, you may benefit from a different system, but I would suggest Square to anyone starting out. You can get set up today, and your customers already know how to use it. - Hannah D., Customer Service Representative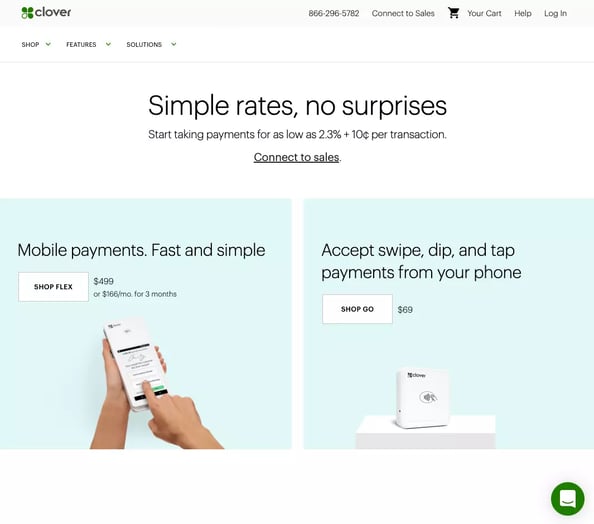 Founded in 2012, Clover serves small to mid-sized businesses, including but not limited to quick-service restaurants, full-service restaurants, retailers, and other service-related businesses and organizations. As a cloud-based point of sale solution, users can easily connect a suite of devices. Additionally, built-in capabilities enable users to simplify daily tasks and streamline transactions.
Clover offers the Register Lite plan free for 90 days; $9.95/month after that. No strings, no conditions. This plan allows users to start taking payments immediately, no hardware required.
Customer Reviews:
Clover payment system has been really great for our spa. Really easy to run transactions, reports or refunds. The customer service has been knowledgeable and super friendly when we have any issues. - Jodi M., Manager
The reason why we chose this software was the hardware that allowed us to accept chips instead of a standard slide of a credit card which is much less secure. Also, because we have individuals accepting payments in remote locations, it was necessary to choose a device that could be used on cell phones or tablets. - Katie S., Office Manager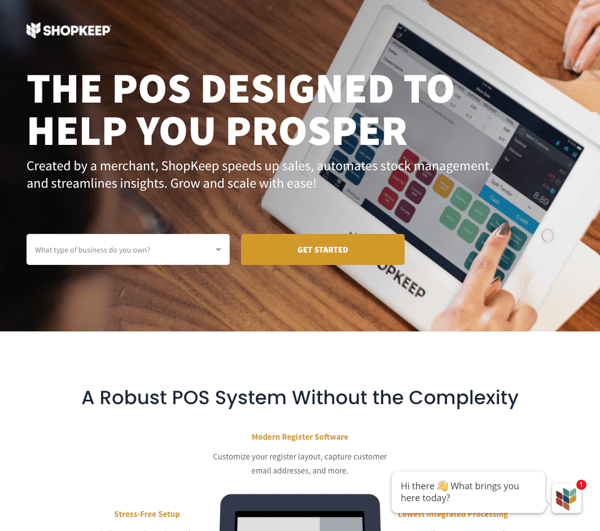 Founded in 2008, ShopKeep powers thousands of independent businesses. ShopKeep enables users to sell in-store and online, take payments, and manage their day-to-day operations. Businesses use ShopKeep to manage their inventory, build online stores, send invoices, and access real-time sales data.
Customer Reviews:
I have had a very good experience with ShopKeep. This is an easy to work with system, both back and front of the house, that is moderately priced. If I ever needed to figure out how to pull a report, a simple phone call or internet search solved the problem. - David G., Director of Retail and Merchandise
I can't say enough good things about this quality built, easy-to-use, and amazingly dependable system. I haven't had one minute of downtime and pairing that with an expert technical support team, you can focus your needs on the growth of the business rather than the operations. - Lonnie F., Owner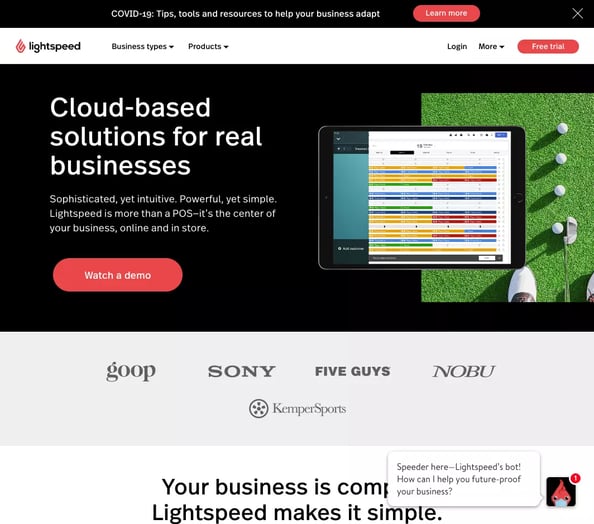 Founded in 2005, Lightspeed offers cloud-based POS systems to help retailers and restauranteurs to deliver powerful customer experiences. Lightspeed's iPad POS system enables organizations to process transactions and manage stock. The app is intuitive and easy to use, meaning that staff can get up-to-speed quickly.
Customer Reviews:
Lightspeed has been great. We have been using it for over a year and it has met my expectations. Whenever I request help, which isn't that often anymore, they are quick to respond. - Zondre W., General Manager
Never had a system this advanced before. I keep trying to implement more features to benefit the daily running of our restaurant. - Veronika C., Owner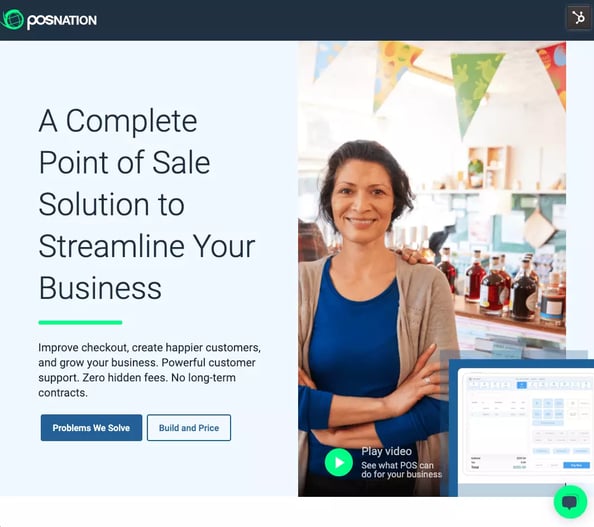 Founded in 2001, POS Nation is trusted by more than 10,000 small businesses, including retail organizations, liquor stores, grocers, hardware stores, and others.
So, what makes POS Nation different from the other vendors?
Unfortunately, other vendors overcharge and underdeliver. Here are a few areas where other point of sale vendors fall short:
Some vendors institute mandatory monthly fees
Some vendors require long-term contracts
Some vendors rely on outsourced technical support
Some vendors offer hyper-generic software
Some vendors offer flashy hardware that doesn't serve your business/customers
As a result, businesses just like yours end up spending thousands of dollars annually on overpriced, ineffective, and outdated point of sale solutions.
There's a better way.
POS Nation offers complete pricing transparency, hybrid software, round-the-clock customer support, flexible payment plans, better payment processing, and commercial grade, warranty-backed hardware designed to meet the unique requirements of your business or organization.
To get started with POS Nation, we recommend scheduling a free demonstration. During this preview, you'll have an opportunity to connect with one of our expert product specialists. This specialist will live-answer any questions you have related to POS Nation software/hardware, and they'll even show you some of the most popular features used by businesses and organizations just like yours.
Partner With the Best POS Solution Provider for Your Business
There's a reason why more businesses choose POS Nation. Take it from Mount Pleasant Seafood. This restaurateur was ready to upgrade from an old POS system to a fully customized solution.
Whether you decide to do business with POS Nation or another provider, knowing the questions to ask can help you get past the sales pitch, and to a solution that works for your unique business and industry. Download our Retail POS System Buyers' Guide to make your purchasing experience as seamless as possible.