Tobacco Point of Sale Software: The 5 Best Vendors in 2021
Jan 05, 2021
•
4 min read
The success of your growing tobacco business relies on the implementation of advanced tobacco point of sale software. Without a point of sale system in place, your business will face serious setbacks related to sales, inventory tracking, vendor management, and more.
Unfortunately, if your business fails to remedy these issues quickly, disaster is almost guaranteed. What can your tobacco business do to avoid these pitfalls?
We recommend partnering with a powerful tobacco point of sale system provider. Many tobacco shop business owners and managers have already invested in the very latest point of sale software to run their growing businesses.
The features of an all-in-one point of sale system are virtually boundless, and as an industry-leading point of sale provider, hundreds of tobacco shops trust POS Nation to improve checkout and create powerful customer experiences. Recently, POS Nation delivered a fully-customized point of sale solution to Huntington Humidor. Today, the cigar shop is able to easily track daily sales, identify trending cigar brands, and rapidly deploy powerful promotions.
Tobacco Point of Sale Software: The 5 Best Vendors in 2021
POS Nation believes in total and complete transparency. While our opinion is a bit biased, we aren't blind to the hundreds of other tobacco point of sale vendors currently available on the market. Regardless of which POS provider you choose, you need a partner that understands your unique industry and delivers on the specific features your business needs to grow. For this reason, POS Nation is routinely chosen as the top point of sale partner for tobacco, cigar, and vape shops.
Here are the top five best picks for tobacco point of sale software this year.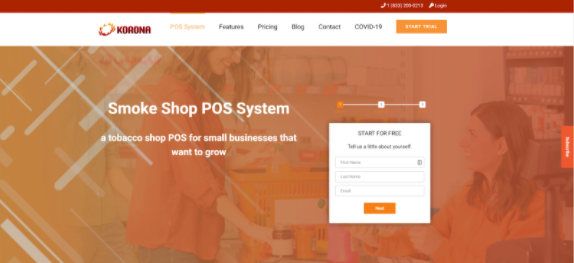 KORONA offers cloud-based point of sale software. The business currently serves thousands of small businesses worldwide. KORONA specializes in retail, ticketing, and memberships. The software currently supports an unlimited free trial, as well as a variety of paid tiers. KORONA offers a flat rate, with no hidden fees or contracts.
Features/Benefits:
Software: Access cloud-based software, an intuitive design, powerful integrations, employee management, and receipt printing.
Hardware: Access includes desktop and tablet capability, as well as customer displays, leasing options, hardware support, and training.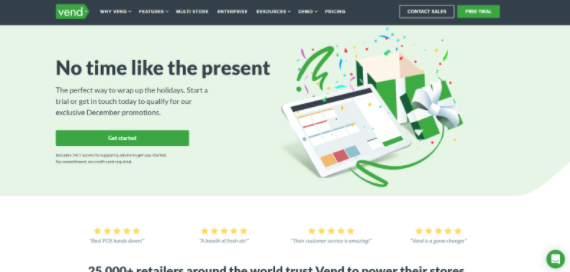 Vend is the first cloud-based point of sale system provider. Additionally, Vend was one of the first point of sale systems built specifically for the iPad. Moreover, the company has won multiple awards, including the American Business Award and New Zealand Hi-Tech Award. Vend was recognized as the fastest-growing company in New Zealand in the Deloitte Fast 50 and the company continues to scale.
Features/Benefits:
Software: Built for the web or iPad. Access fast training, customer receipts, layaway, non-account sales, returns, refunds, store credit, and cash management.
Hardware: Access intuitive, powerful hardware backed by real-time support.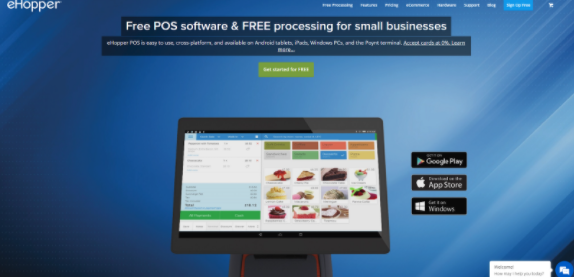 eHopper has delivered point of sale software for more than 15 years. By focusing exclusively on small business management solutions, the company specializes in the design and development of mobile, web, and desktop point of sale solutions. eHopper's free point of sale software and processing makes it an attractive choice for growing small businesses and organizations – try before you buy!
Features/Benefits:
Software: Build a powerful online shop, deploy loyalty programs, master inventory management, and access built-in reporting. Software supports multiple locations.
Hardware: Access a variety of point of sale terminals and hardware, including touchscreens, receipt printers, cash drawers, credit card terminals, and scanners.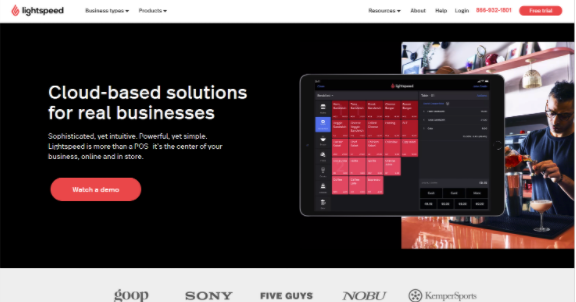 Since launching in 2013, Lightspeed's cloud-based point of sale product has supported more than 15,000 customers. Today, the company has grown to 900+ employees, 14 offices, and over 100 countries served.
Features/Benefits:
Software: Access to online shop capabilities, loyalty programs, inventory management, built-in reporting, and support.
Hardware: Access iPad hardware kit, desktop hardware kit, or individual pieces of hardware, including label printers, cash drawers, and barcode scanners.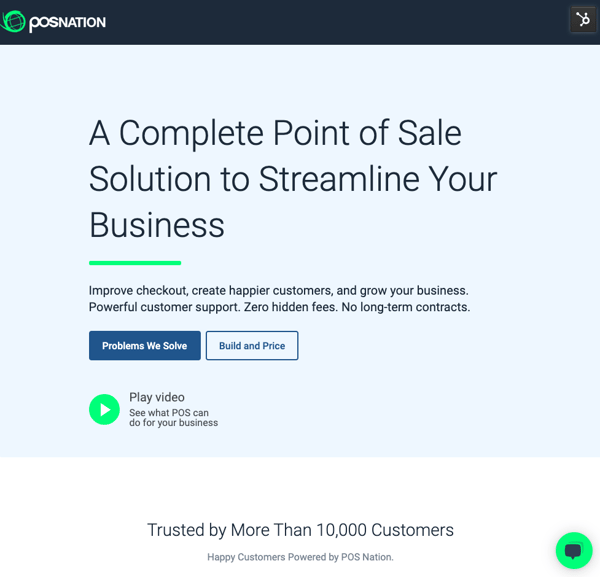 Founded in 2001, POS Nation serves 10,000+ retail organizations from across the United States. We're a seller of turnkey point of sale solutions designed to meet the unique needs of your growing retail business. Our primary focus is on small business retailers, including tobacco, cigar, and vape shops.
The number of features that we offer is vast, but we offer powerful customer support to guide you and your business every step of the way. Are you ready to begin?
Features/Benefits:
Specially Configured Hardware:
Pre-configured for ease of use.
Ships in a single box.
Nothing to install.
Plug in and start ringing up transactions!
Personalized Software:
Built for your unique industry.
Pre-loaded with your inventory.
Built to support loss prevention and theft.
Powerful features designed to fast-track sales!
Integrated Payment Processing:
Accept all major forms of payment.
No need for external payment acceptance systems.
Powerful Support: From system activation to training, we're here to answer your questions/concerns and guide you and your business toward rapid point of sale success!
To get started, let us know what your business needs in a point of sale system. Try our free system builder.
Getting Started With POS Nation
We're here to grow with your business. If you're ready to take the next step toward rapid point of sale system adoption, implementation, and activation, we recommend downloading our Retail Point of Sale System Buyers' Guide.
No matter where you are in your point of sale purchasing journey, it doesn't hurt to gather some advice along the way. If you're in the search for a high-powered point of sale system for your rapidly growing tobacco shop, this guide will give you all the insider intelligence needed to make an informed decision.