What is the Best POS System for Liquor Stores?
Oct 22, 2020
•
3 min read
What is the best POS system for liquor stores? As an industry-leading POS provider, it's a question that we get all the time. The answer might surprise you!
The "best" liquor store POS is one that offers the unique features and functions that your growing liquor store business needs. To make matters more complex, when it comes to liquor store POS software and hardware, not all systems are created equal. Moreover, liquor stores typically require advanced features that generalized POS systems simply can't deliver.
In your search for a liquor store POS system, here are a few must-have features that you should absolutely prioritize.
What is the Best POS System for Liquor Stores?
To start your search, we recommend consulting third-party resources, including Capterra and Consumer Affairs. Use this as an opportunity to review real customer testimonials. In this way, before you make a POS investment, you can learn more about the features and functions that customers find most valuable.
Additionally, you might consider scheduling a demonstration with the POS vendor. Use this as an opportunity to ask mission-critical questions. Doing all of the above will help to make sure that you're completely comfortable with the software and hardware well in advance of the purchase.
As a best practice, during the live demonstration, ask the vendor if the software delivers on the following:
1. Dual Pricing
In some cases, liquor stores will offer considerable discounts for the use of cash. The very best liquor store POS systems come equipped with dual pricing, formerly known as dash discounting options. In this scenario, with just a few clicks, you can apply the discount and the customer can be on their way – it's that easy.
Using Cash Register Express for years at his original store, Mike Ryan was looking for a POS company for his new store, Lebanon Wine & Spirits. After searching through several point of sale providers, Mike found himself watching POS Nation videos for hours. Mike decided to go with POS Nation after learning about new CRE features and techniques from POS Nation resources.
2. Age Verification
Unfortunately, selling to underage customers is one of the most significant issues that liquor store business owners face. A great liquor store POS will come equipped with powerful age verification tools, giving you the ability to confirm that customers are over 21. Most POS Nation customers upgrade to an ID scanner. In this way, you can simply scan customers' ID and receive a confirmation instantaneously.
Related: Benefits of a Liquor Store POS
3. Sales Reporting
To build a successful liquor store, business owners need accurate and up-to-date sales reporting. With powerful built-in sales reporting, POS Nation owners know which liquor brands are driving the most sales. Moreover, inventory can be tracked across departments, giving you a bird's-eye view of the entire sales ecosystem.
4. Advanced Inventory Tracking
Is your business plagued with inventory shrinkage or employee theft? Considering the value and portability of liquor store products, business owners need to stay on top of these serious issues. Fortunately, most liquor POS systems come equipped with barcode scanning. This allows for accurate inventory tracking, faster counts, and theft prevention.
Related: Liquor Store POS Systems: Four Must-Have Features
5. Payment Processing
Today, customers demand a smooth and seamless purchase process. For this reason, most modern POS systems accommodate different payment types, including gift cards, credit cards, debit cards, mobile payment, cash, and EBT. POS Nation's liquor store POS system accepts all major forms of payment.
POS Nation Powers Liquor Stores Nationwide
There's a reason why more customers choose POS Nation.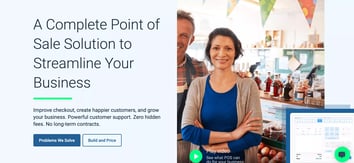 POS Nation offers a complete POS system to streamline their stores. We enable small businesses to improve checkout, create happier customers, and grow business. And with zero hidden fees and no long-term contracts, POS Nation is an ideal solutions partner for growing liquor store businesses.
The truth is that most point of sale providers overcharge and underdeliver. Businesses like yours spend thousands of dollars annually on overpriced, ineffective, and outdated POS solutions. There's a better way.
As an ideal next step, we recommend taking the quiz below. We'll help you find the very best POS solution for your growing business!