4 Retail Tips to Keep Customers Happy
Dec 19, 2019
•
3 min read
Like any small business, retail shop owners have to make sure their customers' first impression is a positive one. You have a few minutes to make or break their opinion, so it's important to put yourself in their shoes and walk through their journey. The retail experts at POS Nation are here to share some quick tips that will keep customers happy — and coming back for more.
1. Introduce Yourself by Name
When a customer walks into your storefront, how are they being greeted by your employees? Something as simple as sharing your name makes an interaction more personal, allowing the customer to open up and feel comfortable asking questions. Using names at the beginning of a conversation is guaranteed to make a customer feel good about visiting your shop.
It's encouraged for employees to use their coworkers' names when they pass a customer over to them as well. Introducing a customer to someone else who can help will make them feel like they're in good hands, further improving their shopper experience.
2. Be Available to Help
As a customer, there's nothing more frustrating than looking around for help and not being able to find someone. To avoid creating a negative customer experience, make sure there are enough associates on the sales floor to answer questions. Visitors in your retail shop will be wondering where they can find an item, if it's available in another size or color, and what your personal recommendation is.
Additionally, make sure your employees know how to be available without crossing the line. While customers want the presence of sales associates, they don't want to feel like they're being watched while they're browsing either. Encourage employees to stay occupied nearby — straightening up shelves or folding clothing. This way, they're close enough to help out but they're not invading a customer's personal space.
3. Kick Customer Service Up a Notch
To start, friendliness always wins. Make sure employees have a smile on their face and are being polite with customers. Always say please and thank you, and even if a sales associate is having a bad day, it's important to let it go rather than taking it out on visitors. It may seem like these points should be common knowledge, but it's easy to let a negative experience take over your attitude. Great customer service begins with being nice.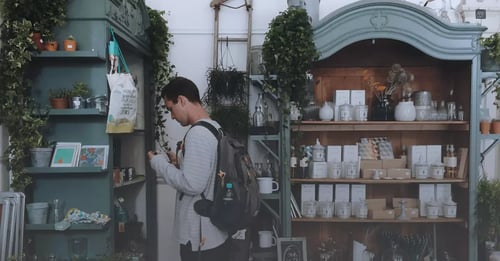 Another great customer service tip is associated with answering customer questions. When someone asks where they can find jeans in your store, what do you do? You can point in the right direction and tell them which way to go — or you can show them yourself by walking them over to your selection of jeans. Make sure your employees are giving customers their full effort. Every person they help out deserves their undivided attention, and more importantly, a customer should never be ignored if they're waiting for assistance.
4. Make Sure Checkout is Efficient
Are customers making it through checkout in a timely manner or are they standing in a long line waiting to be helped? Regardless of how positive a customer's experience has been thus far, checkout efficiency (or lack thereof) can impact their initial opinion on your shop. Make sure your employees are trained up before you let them handle transactions. If you have security sensors on items, make sure cashiers triple-check that they're all removed. (Customers can't remove them on their own, of course. This means they have to come back to the store, which is a huge inconvenience.) Ensuring that employees are trained properly also helps you avoid other mistakes such as ringing up an item more than once or not ringing up an item at all.
Using the correct point of sale system for your industry is equally important for checkout efficiency. Even your best cashier will struggle to help customers if they're battling with POS software that's slow or unable to support the functionality they need.
Improving the Customer Experience
What are you doing to ensure customers are having a positive experience in your shop? If you're looking to upgrade the customer experience in your shop and don't know where to begin, contact our team at sales@posnation.com.
And if you're in the market for a point of sale system, you can begin by building your system online or requesting a free POS quote today!