TechRadar is a trusted source in the tech industry, sharing breaking news, reviews, opinion pieces, and so much more. When it comes to computing, point of sale software is a definite hot topic — and our retail POS solution was worth highlighting.
Point of sale solutions are designed to streamline business processes, grow your business, and make customers happy. It sounds simple, but there's a lot that goes into choosing a POS system for your retail store.
New small business owners walk into an overwhelming market of providers, not knowing exactly what to look for. That's why trusted industry experts like TechRadar exist, providing genuine research and feedback on companies in the retail point of sale space.
In TechRadar's article, they dive into:
Plans and pricing for our hardware and software
How POS Nation's software works
Retail-specific features and services
24/7 tech support and customer care
Retail point of sale vendor competition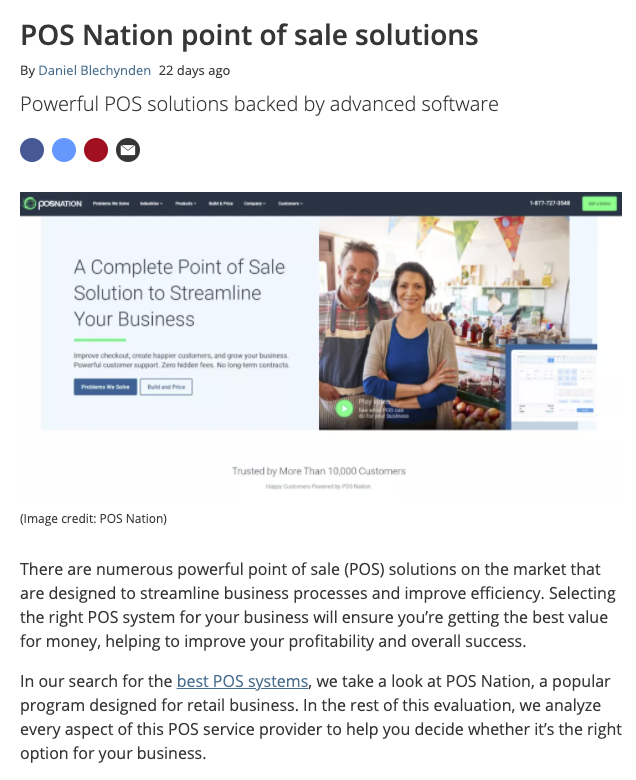 In closing, the article's author shares that, "POS Nation stands out because of its excellent retail POS solutions. It's relatively affordable, comes with great customer support, and is backed by a range of advanced features. On top of this, POS Nation has an excellent reputation backed by numerous excellent reviews across the web."
Want to check out TechRadar's review of our retail point of sale solution? Read the article and feel free to reach out if you have any questions about working with us!