The POS Nation team attended the 2017 RetailNow Trade Show and Convention held in the one and only Las Vegas. With over 15 years of experience working with hundreds of varying retailers, we were invited as Black Diamond sellers for Heartland to review the current industry offerings and showcase our point of sale system knowledge.
Staying Up-To-Date on Retail POS Technology
"We have hundreds of customers in the retail vertical and we're very familiar with the unique needs of these retailers," said Ryan Bates, product specialist for POS Nation. "Most importantly, we understand that RetailNow members offer premium products and services to a wide range of clients who are always looking for the most efficient and progressive products like retail and technology industry, hardware, manufacturers, software and more."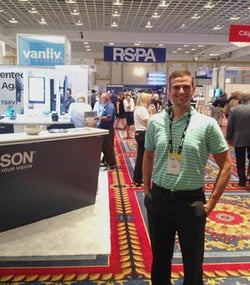 Two of POS Nation's premier partners in the point of sale industry include Heartland and Vantiv, who invited our team and sponsored several events throughout all four days of the RetailNow convention.
"Attending the RetailNow convention was great," noted POS Nation Director Cort Ouzts. "We were able to speak with hundreds of visitors and vendors about the competitive advantages of owning a point of sale system and what makes us a perfect partner in the POS industry. We're always emailing and calling developers, but interacting and speaking to them face-to-face is the best way to truly meet and understand who they are."
Taking place in the Paris Las Vegas Expo & Convention Hall, the RetailNow convention is known for being the largest and one of the most significant events in the point of sale industry, and we were honored to be invited and present our knowledge to the convention.
Finding a Point of Sale System for Your Small Business
If you'd like to learn more about us and how we can help your small business, get in touch with our product specialists at sales@posnation.com. You can also get a free tour of our retail software by scheduling a live demo.